Nicolas Maduro social media profile is live here.
Nicolas Maduro began his political career as a bus driver and unofficial trade-unionist representing the workers of the Caracas Metro system in the 1970s and 1980s. He finished high school in the Liceo Avalos, a public high-school west of Caracas during the '80 (El Valle neighborhood), but lacks any university or further education.
He is considered one of the founders of the Fifth Republic Movement (MVR), but his biggest political accomplishment was as activist lobbying for the release of Hugo Chávez from prison, and later as one of this regional political coordinators during the 1998 presidential race. Maduro was elected on the MVR ticket to the Venezuelan Chamber of Deputies in 1998, to the National Constituent Assembly in 1999, and to the National Assembly in2000 and 2005, representing the Capital District. The legislature elected him Speaker of the Assembly, even though he did not have a college degree or formal education.
In January 2009, Israel ordered the Venezuelan ambassador and his staff to leave the country after Venezuela expelled Israeli diplomats at Chavez direction over Israel's military offensive in the Gaza Strip. In an interview with Al-Jazeera, Maduro stated, with regard to Israel's expelling of the Venezuelan ambassador, that "The response of the State of Israel is weak, late and in any case for us it's an honor. We're proud that the State of Israel that exists today, led by these criminals, made this decision."
Well known in Venezuela for his strong Anti-American sentiment, on September 2006, he was detained by Homeland Security officers at JFK Airport, after paying for three air tickets in cash, despite the fact that he was then holding a Diplomatic Passport.
Nicolas Maduro – Motion Chart and election forecast derived from social media data
The chart below, live at Maduro's page @ ttwick, shows a projection of votes for Nicolas Maduro if elections were held today in Venezuela.  The chart shows results state-by-state as well as "Chavismo Centroid" vs Henrique Capriles. This data, coupled with the raw data processed from messages in twitter, Facebook, Google +, and LinkedIn gives you amazing insights into the next Venezuelan presidential elections 2012.
Nicolas Maduro's  social media activity- ttwick chart
Below is what we call a ttwick chart, similar to a Open High Low Close (OHLC) chart in the stock market.  It shows the first stage in the transformation of a social media message into a "ttwick", indicating the level of social media activity around Nicolas Maduro, and using twitter as our main source of data, since it leads other social networks in propagation of information, but also using inputs from Facebook, Google +, and LinkedIn.
Nicolas Maduro – Sentiment Analysis
This graph shows how polarized (negative or positive) social media users are in their opinions of Nicolas Maduro over the last 14 days. Our algorithms scans all relevant messages in twitter, Facebook,  Google +, and LinkedIn and extract general sentiment from the data
Nicolas Maduro – Perception in National Priorities
This graph aggregates opinions posted in twitter, Facebook, Google +, and LinkedIn around topics of national priorities for Venezuelans, and measures the level of chatter (positive and negative) around Nicolas Maduro vs other candidates.
Nicolas Maduro – Social Network Analysis (SNA)
As of January 2012, Nicolas Maduro (@NicolasMaduroOf) has about 17,000 twitter followers, and one of the most "organic" and well distributed of the SNAs we have analyzed for Venezuelan politicians. Below is a SNA for Nicolas Maduro. (Please, click "refresh" in your browser if you don't see a graph loaded).
The top 5 entities/people that contribute to the chatter around Nicolas Maduro are:
a) RafaelRRC (R. Rodríguez Coronel)
b) BrendaBriceno (Brenda Briceño)
c) IsaMCastrillo (Isabel M. Castrillo)
d) afeolacruz (Alejandro Feo LaCruz)
e) flguerrach (Fernando Guerra)
Again, a Social network analysis (SNA) is the mapping and measuring of relationships and flows between people, groups, organizations, computers, URLs, and other connected information/knowledge entities. The nodes in the network are the people and groups while the links show relationships or flows between the nodes. This type of quantitative analysis provides both a visual and a mathematical analysis of human relationships.
Ttwick has deployed sophisticated algorithms which are tracking and monitoring Nicolas Maduro's activity in social media, as well as the activities of those issuing comments (positive, negative or neutral) about his campaign and political plans.
For a projection of votes if elections here held today in Venezuela, click here.
For "National Priorities" of the Venezuelan people, click here.
For trends within national priorities, click here.
To learn more about Nicolas Maduro, check out his wikipedia page here, and just for fun, check out the face-morph in the YouTube video below.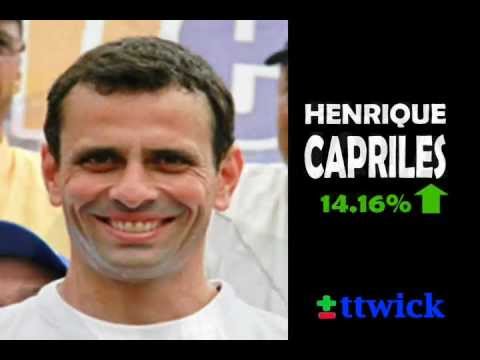 If you liked  this post, please leave us feedback by clicking on any of the buttons (below or above), leave your comments, or both. We would love to hear from you!
I am a knowledge addict, former senior financial quant for Lehman Brothers and now an independent alternative investment advisor and freelance coder. Since the 2008 crisis, I have been spending a lot of time applying Wall Street valuation models and techniques to mainstream topics, from health & fitness to art and presidential elections, and many things in between, including data mining with ttwick.com. In my spare time, I enjoy snowboarding, cooking, traveling, weightlifting, and digital photography.